HOME
WILD SURVIVOR QUEENS

VSH / SMR / RUSSIAN
PACIFIC NORTHWEST WILD SURVIVOR STOCK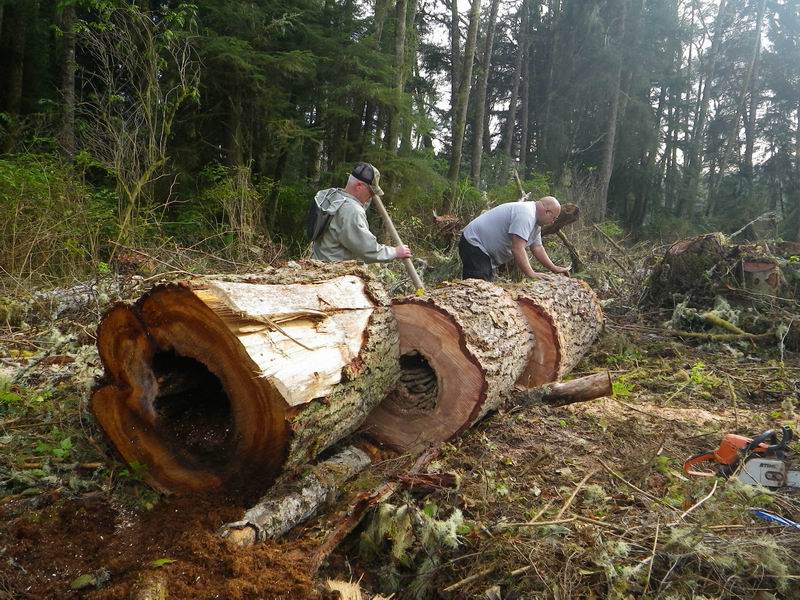 Cooperation w/ our local eco-friendly loggers nets another isolated wild swarm!
---
TRANSFORM YOUR COLONIES
REQUEEN WITH OUR TESTED & PROVEN STOCK:
HARDY & HYGIENIC - DISEASE & MITE RESISTANT
WORK AT COOLER TEMPERATURES
ABUNDANT DRONES - ISOLATED MATING YARDS
SELECTING FOR NOSEMA TOLERANCE SINCE 1997
15 YEARS NO CHEMICAL MITICIDES - 7 YEARS NO FUMAGILLIN
---
QUEEN HONEYBEES FOR SALE - Available July - September
If your spring packages have not been specifically bred for mite & disease resistance, re-queening with our proven stock later in the season will better insure the health and survivability of your investment. Unlike southern breeders, our climate prevents us from offering spring Queens...but we invite you to discover, as we have, the clear advantages of summer/fall re-queening of your spring packages; splits; and overwintered colonies with our hardy, resistant stock:
Young, well-mated queens will continue to produce brood later into the fall.

Supplemental feeding of protein patties and syrup provides adequate nutrition insuring the development of necessary fat reserves in the late summer/fall emerging brood. Resulting in improved winter survivability.

Our queens produce conservative winter clusters that will build-up quickly in the spring as soon as feed becomes available.
Be aware that the best of Q's can't save colonies already heavily infested with mites. To create an environment capable of supporting your new queen's maturing offspring, we recommend treating with "soft" controls (such as Apilife Var; Apiguard; Hopguard; Formic Acid or Oxalic Vapor) 1 month prior to re-queening!
---
OWA BREEDER QUEEN SELECTION CRITERIA:
We graft from untreated colonies whose queens have been overwintered for a minimum of one season, and have passed our strict standards for these following traits:
Hygienic Behavior
: Minimum of 95% removal of freeze-killed brood in 24 hours
This trait will reduce or eliminate Chalkbrood; AFB; and varroa mite levels w/o the use of chemical treatments
VSH
trait is determined by Alcohol Wash Assay during spring brood build-up and fall peak mite infestation.
Grooming Behavior
is determined by Alcohol Wash Assay during the winter broodless period
Demonstrate vigor with high exposure: UNTREATED.
Our selection process is verified by in-house microscopic testing and USDA Laboratory reports.
Excellent Honey producers;